The three passes trek is a route in Nepal straddling several valleys which crosses three passes at 5500m: Kongma La, Cho La, Renjo La. With fantastic views of giants such as Everest, Makalu or Lhotse, this high altitude route will reward your efforts. In this report, I give you my version of the trek as I traveled it solo. I hope it will make you want to go there too!
Summary
Some tips for the trek of the three passes
A warning: this article on the trek of the three passes is a travelogue and in no way a guide, do not take my itinerary and my stages at face value! However, I can give you some brief advice. If you want more practical information, you can for example consult the pages that I have personally used: romlands, halfwayanywhere, nomadjoseph, triptins. On site, I relied heavily on the excellent book by Cicerone.
Why the trek of the three passes?
I am a fan of the Alps, and I remain convinced that the most beautiful and wildest hikes I have done are in these mountains. Take a look at my section great routes ! If you want to experience the mountains, I encourage you to explore the Alps first. Plus, it's better for the carbon footprint. However, if like me you are beginning to have traveled the Alps up and down and across, then the Himalayas become interesting. The landscapes, the Nepalese, the fauna and flora, and above all the very high mountains with their mythical summits: a world separates them from the Alps. In terms of photography, the air is sensationally pure. I take this opportunity to do some publicity for my section of pictures of nepal !
When to leave?
Two periods are ideal: in spring in March-April, and in autumn in October-November. The whole summer season is difficult to pass due to the monsoon (which tends to overflow into the beginning of October now with climate change). The weather is usually better in the fall, but there are plenty of flowers in the spring
How to get there ?
First you have to go to Kathmandu. Then several solutions are available to you: plane to Lukla airport (which most trekkers do, because it is shorter) or bus/jeep to Jiri or Salleri (allow a full day of travel). It is this second option that I chose, going to Phaplu near Salleri. One can easily book an overnight ride in Kathmandu, for example to where you are staying. Note that a road is under construction to Kharikhola, maybe it will be possible to go by jeep there in the future (I was informed that it was already possible, but that the road was so destroyed that it's really not a recommendable option).
It's difficult ?
The biggest difficulty on the three passes trek is hiking at high altitude, the paths being easy to follow. To prepare for it, you have to acclimatise: from 2500/3000m, sleep every day (in theory) only 300m above the previous night. In practice, it is above all necessary to monitor your physical form and go more or less quickly depending on that. By reading my story, you will see that I tried to go a little too fast, don't do like me ;). If any symptoms of altitude sickness occur, descend immediately.
Is it dangerous to go alone?
In Kathmandu, many Nepalis will try to convince you that you need a guide. Sometimes while lying, I saw someone tell me that I needed mountaineering equipment and ropes to do the three passes trek, this is completely false. As long as you are a good independent hiker, I think that a guide is really not essential or even useful. My philosophy is more about discovering things on my own solo and I wouldn't have enjoyed the hike the same way with a guide. The path is very well traveled, if you have the slightest problem you can always ask for help (I don't think I've ever gone an hour without seeing someone). It's up to you to see what suits you best.
Do you need crazy gear?
When you hike on the trek of the three passes you see people dressed from head to toe in Arcteryx… I left with my good old Decathlon down jacket and a 15 degree sleeping bag. As there are accommodations every hour of walking and they all offer rooms with very warm blankets, a heavier sleeping bag would have been of no use to me. The only slightly "technical" component that is useful are mini-crampons to pass the small, easy glacier before the Cho La pass. You can buy them at the Kalapatthar shop in Kathmandu (ask where it is, it's well hidden but worth a visit). Another useful component is a water filter, which will allow you to drink tap water without getting sick. I personally bought the Sawyer Squeeze.
When do we eat ?
There are accommodations very regularly along the way. The cooking is almost always homemade, so it takes a bit of time, but the wait is amply rewarded. Among the essentials, there is the Dahl Bat: rice, grilled/boiled vegetables and lentil soup. No two are the same and you're always entitled to a second helping! For lunch, I often took the Sherpa Stew, a good soup with lots of vegetables and pasta.
I invite you to refer to the links I have given if you have more questions about the organization of the trip. You can also contact me using the contact form on the home page and I will answer you with pleasure. On to the story!
The three passes trek solo. Part one: the middle mountain, going to Namche Bazaar.
First day. Bad impressions in Kathmandu.
Arrival in the capital
I take a flight from Dubai then Kathmandu. You can admire the power of oil in Dubai and its fountains in the middle of the desert. First view of the Himalayas from an airplane: you say to yourself "wow, this is Everest", and then you discover five minutes later that there is a whole row of even higher peaks some distance away, and another and one more... It's infinite and immense...
The visa is done in 10 minutes and 54 euros. Assailed by taxis at the exit of the airport, I still managed to get the bus stop indicated to me. A friendly cow licks my backpack while I wait. I don't understand what's going on: dozens of buses pass by, the doorman shouts something and if no one waves the bus leaves just as abruptly. As I can't figure out which bus to take, I get on a scooter which takes me to Thamel for 150 rupees. Obviously without a helmet. The highway code is non-existent or incomprehensible. The air pollution makes me cry on the scooter.
Various requests
In Thamel, I am assailed from all sides by people wanting to sell me one thing or the other. It's beautiful but no way to stay quiet for 5 minutes. I buy a nice painting 3000 rupees. They explain to me many times the principle of the mantras and they show me all the temples of the city. "Good karma, we must give for anything received". This does not prevent the other from asking me for 4000 rupees when I give him 500 for the guided tour he gave me… The Kalapatthar shop is worth the detour: we make our way through a compact crowd to find a type who sits on a pile of trekking equipment and who negotiates better… Small crampons bought 700 rupees. No bus to Phaplu unfortunately, everyone tells me it doesn't exist anymore. I rent a jeep from the hostel for 2800 rupees.
Second day. Of the usefulness of a jeep.
+ 700m / – 500m 11km
Rise at dawn
Departure by jeep at 4:30 a.m. with an Australian, a Canadian, two Nepalese and a French couple. On the way to the three passes trek! During the trip, I discovered:
Why only jeeps go to Phaplu, and not buses
That there are rivers with a bed so wide that it fucks the chips
That you shouldn't even try "slightly spicy" dishes
That there are French people who have spent their lives traveling to the four corners of the world, who are going for the fifth time to the Himalayas on the trek of the three passes, but who do not even know what the Appenines are and rarely go in the Alps
That we can fit four in a back seat without a problem
That Nepalese music can be very very (very) repetitive
First impressions
Third day. An idyllic valley.
+ 1650m / – 1800m 19km
Silence is golden
Tropical atmosphere
Fourth day. Arrival on the highway.
+ 1700m / – 1550m 23km
Meeting with the carriers
A competition Dahl Bat
Fifth day. Arrival at high altitude.
+ 1800m / – 900m 16km
Tourists and porters
Namche Bazaar
evening lights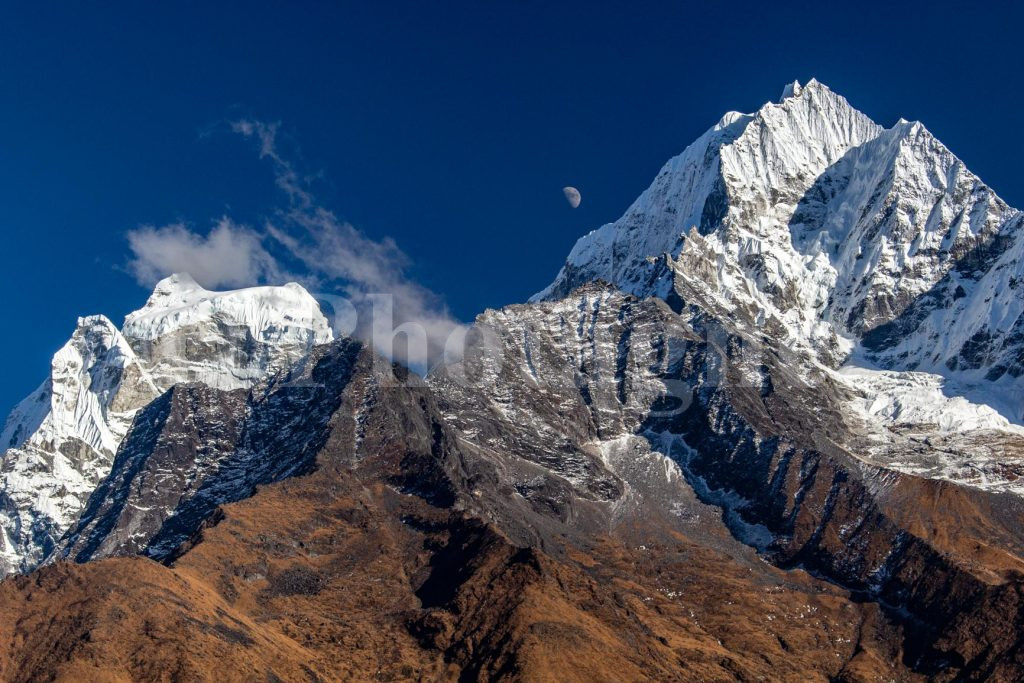 The three passes trek solo. Part two: around Ama Dablam.
Sixth day. On the usefulness of acclimatization.
+ 1650m / – 1250m 13km
Encounter with local wildlife
Wanting to go too fast...

Seventh day. Ama Dablam base camp.
+ 1450m / – 1150m 18km
High altitude experiences
A friendly lodge
Eighth day. The effects of altitude.
+ 900m / – 900m 9km
A short day
At the Yak Hostel in Dingboche, I spend the afternoon under the duvet, I'm really exhausted, it must be the effect of the altitude even if I haven't done much during the day. In the common room, I meet a Nepalese who loves France and a Colombian who walks at the same pace as me (5 days to get to Dingboche). He wants to try Island Peak. The meal is not good and expensive: it is a constant in Dingboche!
Ninth day. Chukhung Ri.
+ 1000m / – 600m 9km

Change of program
Stay one more day in Chukhung to do the pass (meh)
Go do the Kala Patthar and take a walk in the middle of all the people who want to see Everest up close (blah blah)
Spend one more day in the middle mountains towards Salleri (yes!)
Tenth day. The trek of the three passes is transformed into the trek of the two passes.
+ 800m / – 700m 18km
Walkabout on the way to Everest
Return to a less populated mountain

The three passes trek solo. Part three: Gokyo.
Eleventh day. Ngozumpa glacier.
+ 800m / – 900m 12km
The Cho La pass and its glacier
The moraine

Arrival on Gokyo
Twelfth day. Explore Gokyo.
+ 800m / – 800m 15km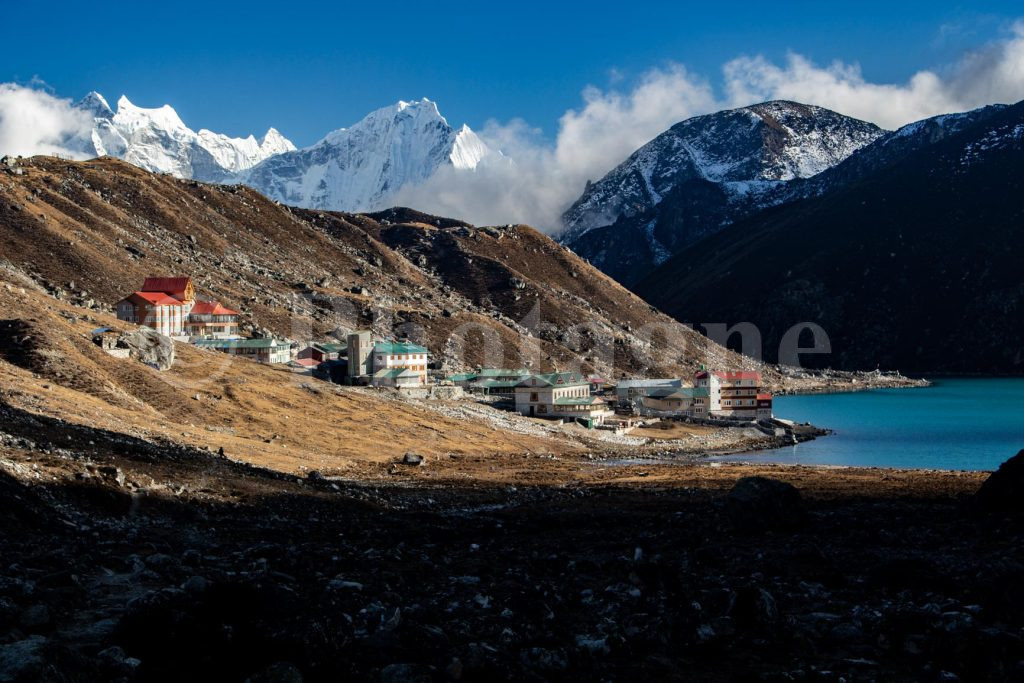 Thirteenth day. Change of atmosphere.
+ 750m / – 2050m 23km
The Renjo La pass
Farewell to Everest...
Back to warmer skies
The trek of the three passes. Part Four: From Namche to Jiri.
Fourteenth day. A so-called descent.
+ 850m / – 1700m 21km
Namche in the morning
Chaurikharka's grandmother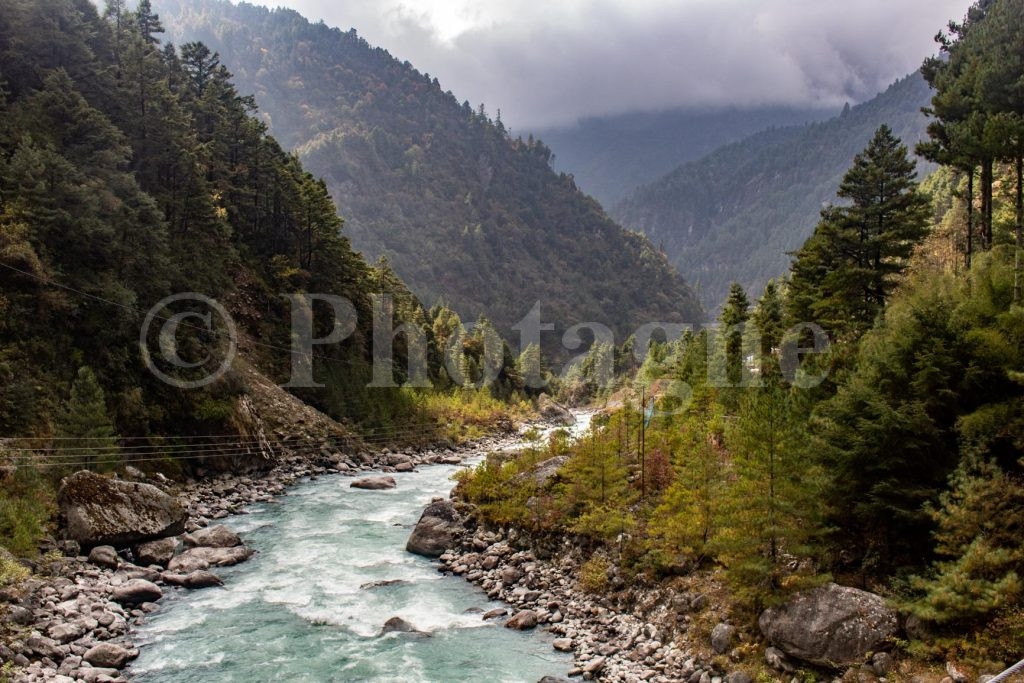 Fifteenth day. Competition Momos.
+ 1300m / – 1850m 17km
Unpleasant cold
The afternoon begins with a not obvious section of path, in the shade and made up only of slippery stones of mud and donkey poo… I come across endless caravans of donkeys. It is a relief to finally descend to the pretty village of Kharikola. I rediscover with pleasure the greenery, the flowers, the crops on the terrace, the neat gardens and the beautiful houses: how pleasing to the eye!
An English traveler
I stop in a very beautiful and comfortable lodge in the village, there is even electricity in the room. I take a hot shower because for the first time on the course we don't curdle too much in the evening, what a luxury! This does not prevent me from enjoying my lemon ginger tea.
The Dahl Bat is ok and I chat with friendly English, yet another long-haul traveler. He introduces me to local alcohol, made with millet and served hot: it quickly goes to my head and it's not famous... hard to understand why so many people keep going back to this hike again and again. Ok, she is very beautiful, but the world is so big… Why not explore other lesser known places in Nepal instead? If I ever come back to this country, that will be my goal.
Sixteenth day. Ahead of the program.
+ 2400m / – 1800m 23km
direct ascent
An idyllic place
I have 2 more days on my program and I tell myself that I have time to continue until the next city, Jiri. It will give me more mid-mountain, flowers, delicious and inexpensive food, too good! So I continue to Phurteng. It's 4:15 p.m., the sun is setting, the place has a superb view, is absolutely peaceful, and a cat is making eyes at me...
Seventeenth day. Back to civilization… and its roads.
+ 1850m / – 2300m 24km
An unknown animal
Kinja
It's warmer as I descend another 1000m and the atmosphere becomes tropical again. It's very pretty and lively, there's a school, the Nepalese live in the fields, weave the wicker, take care of the cows or the goats. Kinja is really a very pretty village but if I want to go to Jiri I have to continue once again. What was a path on the guide has become a road: too bad. Altogether this extra portion up to Jiri has far too many roads and tracks for my taste. And not one of the many people I asked if the trek to Jiri was worth it could tell me about that…
Nepalese villages at night
I let a Jeep pass and I regret it, I should have hitchhiked. At the end, there is still a damn beautiful panorama and pretty waterfalls. I'm on the wrong path (now that we're closer to civilization there are paths everywhere and it's easy to get lost). I find myself on another track and it's very lively in the evening, there are schoolchildren returning home, people passing by on foot or on motorbikes, all the children say "Namasté" to me. Tonight, I really feel like a stranger even more, everyone is looking at me, probably because I'm the only hiker at that time.
An authentic lodge
I stop at a lodge in Bandhar that is decidedly more "authentic" than "touristy". It will be Dahl Bat, too bad, I would have taken back Momos. The Nepalese always leave the door open, what the hell! While waiting for the meal, I help the little girl, who must not be more than 5 years old, with her homework in English. She already knows how to speak a few sentences, in this lost corner in the middle of nowhere, it's incredible!
The meal proves to me that it is definitely an authentic place: the Dahl Bat is monstrously spicy, I characterize it with a single word: SUFFERING. EVERYTHING is spicy, the dahl the veggies and even the fucking rice I was trying to put out the fire with at first not understanding why it didn't work.
Eighteenth day. End of the trek of the three passes and arrival in Jiri.
+ 1300m / – 1500m 16km
Last day of walking, already! But I don't dwell too much on my thoughts since I live in the moment on this trek. In the valley, a bus comes up at the same time as me and honks like an organ, you can hear it for miles. It's hot, I take off the legs of my pants for the first time since the beginning of the course. I pass a peaceful pass village then it's a pretty descent to Shivalaya. The path is less and less big, the countryside more inhabited, there are more roads/tracks. At school, all the kids tell me "Namaste! with great enthusiasm.
Shivalaya and its pretty valley
Impressions of Jiri
I stop in a hotel of inconceivable luxury (private bathroom with hot shower), eat an excellent samosa as well as a dish of Momos with beef next to a French, it's the first time that I eat meat in this country. Considering how quickly they arrived, they had to be prepared or frozen but they are still delicious. French warned me: there is nothing to do in this city. I hadn't believed him but after turning into the main street, it is clear that he was right. There are plenty of bazaars but they only sell things for locals: big baskets, pots, backpacks for kids… Not much for tourists.
Looking for a bus
I see girls wearing suits and ties, probably for school. I ask several people for the bus schedules and I am told that it must leave between 6am and 8am, without further details. Apparently no set schedule. I look at the place of the buses and I understand why: people crowd into pickups leaving God knows where, at 10 in the trunk and so much in the back seat that the door no longer closes.
A hotel manager ends up booking a bus for me at 7am. I buy myself very acidic kiwis which burn my tongue and peanuts. I inquire about a strange fruit that I had already seen grow on trees, apparently it is a kind of tomato that is served in pickles. Maybe I tasted it the night before in this too spicy dish, it had a vague taste of artichoke. After a dish of Chowmein to die for filled with fresh vegetables, I have to face the facts: everything is also homemade in this hotel, and it's simply delicious for a ridiculous price. Top !
Nineteenth and twentieth days. Return trip.
The bus to Kathmandu
I have breakfast with the guy who booked the bus: as I misunderstood the time, I drag him and his wife out of bed at 6:30, poor things. This does not prevent them from making me a very thick and delicious pancake. I take the bus around 7:20 am, it is small, there are about ten of us. I am impressed that there is a paved road at the start, and it seems to be in good condition. On the guide we can read that it was built by a Swiss aid project.
But we quickly find these good old tracks completely rutted. The bus jumps so much that sometimes I take off from my seat, luckily the ceiling is high. At the first stop, I buy oranges and bananas. Instead of understanding 3 oranges, the saleswoman understands 3 kg, I have a monstrous quantity. They are very good but very acidic. I chat on the bus with an engineer and a student in materials physics! It passes the time well. The view is pretty but not as beautiful as on the way there. Arrived in Kathmandu, I get tricked into paying 1200NPR per night in a hotel.
Kathmandu and its incredible energy
I visit Kathmandu and there I fall in love. As much as the first day in this city did not please me so much because everyone fell on my saddle to sell me one thing or the other, once I got used to this aspect I no longer felt it too much and I loved the city. It's so teeming with life and energy that I don't know where to turn. The tiny streets are crowded with scooters and pedestrians of all kinds. There are sellers of everything: bazaars, spices, yoghurts with dried fruits, musical instruments, crisps (!)… Side by side you can find motorcycle batteries, underpants, incense, televisions and still everything a lot of things that I can't identify. There are shops so small that the seller sits on a chair in the middle and can reach everything by stretching out his arms.
I buy heaps of souvenirs and surely get ripped off: scarves, spices, teas, various trinkets… I eat Momos in a place that does just that in a big pot, 100NPR for 10 Momos. Too spicy, of course, and again this is the soft version. Dessert: a kind of marzipan with spices, which is really not crazy. The next day again, a few more races, I visit Durbar Square and its many temples, and it's already time to return. I live my last misadventure at Dubai airport, where unsuspectingly I change my remaining rupees into euros and lose 30 euros in the case of unfavorable exchange rates. But what a journey!
Conclusion: my price distribution for the three passes trek solo.
Did you like this article ? Feel free to comment and/or share!